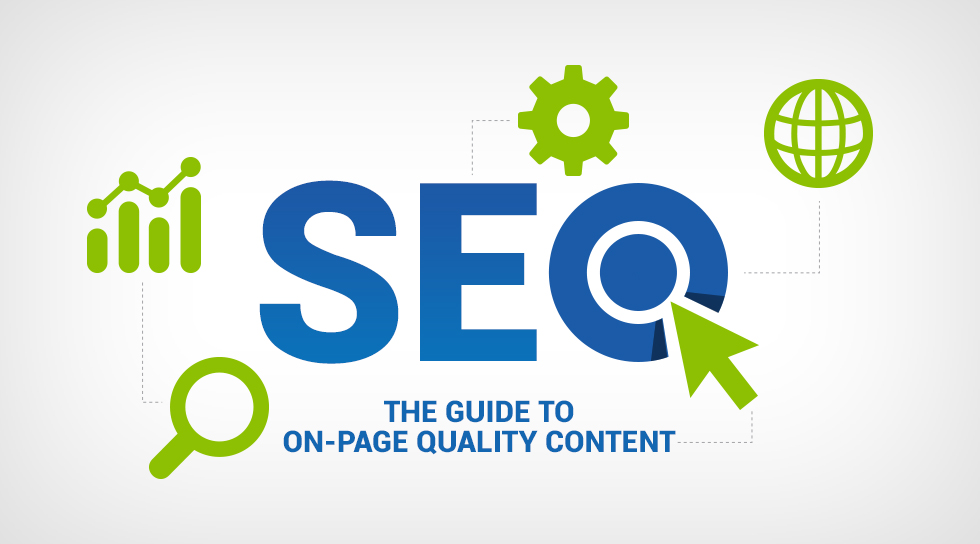 In the ever-evolving industry that is digital marketing, this era has ushered in a stricter set of guidelines at the hands of Google, which forces webmasters and digital marketers to stay on their nimble toes. As best practices are updated, Google's aim is to create a level playing field for all parties involved.
In this post, we're going to shed some light on the criteria that allows on-page content to be classified as "quality content," as well as some common mistakes that come along with a sometimes imperceptive attempt to optimize your web pages.
Composition & Structure
It's important to note the spectrum of quality guidelines that Google takes into consideration when evaluating the relevancy, layout, and device compatibility of content on a webpage. Since the advent of Google's core algorithmic update, and most notably the latest update that rolled out in OCT of this year, there is an even greater emphasis to reward and/or penalize the content quality on a web page.
Relevancy
Content that is constituted as "relevant" means that the information provided satisfies a searchers' intent. Achieving this means that digital marketers have to ensure that they keep a few key factors on their radar when composing the content of a web page. The information that you provide to visitors should deem you a credible source and should quickly answer the following question: "What information do I want to find here?
On a static web page, the information should be evergreen, meaning that the content shouldn't hold an expiration date. The page copy should reflect meaningful content that is written for the user and not the search engine. Adhering to this practice will engage the curiosity and interest of the visitor, which will subsequently garner more traffic.
Content should also be unique. Substantiating your brand with information that a visitor can't find elsewhere will position you as a credible thought leader in your industry.
Unfortunately, it's fairly common that we find duplicated content, which is defined as information that is mirrored on more than one URL, either within the same domain or across multiple domains. The practice of this tactic may have negative implications as search bots will crawl and index these pages and not understand which page is most relevant to present on the search engine results pages (SERPs). As a result, Google will be forced to choose.
However, if Google believes that your aim is to be manipulative to their ranking algorithm, then your page rankings may be adversely impacted, or your site may be removed from Google's indices entirely.
Layout
How content is presented on a page is also indicative of the type of user experience a visitor will have once they reach your page. Exploring various layout considerations will help webmasters and marketers gauge the placement of their most valuable information.
Too often, when evaluating the structure of a web page, we find that the 'above-the-fold' segment is wasted real estate providing little to no value to users. The area is either populated with distracting ads or just blank space.
Placing pertinent information (ie: value propositions) above-the-fold is critical in terms of functionality and user-engagement. A user should not have to scroll down to understand the scope of the page.
Incorporating bullet points to quickly outline pieces of content will aide in the readability of a content piece. Users who have to read through a sea of long paragraphs are more likely to lose their attention, and ultimately click away from the page.
Device Compatibility
As more and more users are engaging with webpages via smartphones or tablets, it's critical to ensure that your website is responsive. Content should be equally optimized and render properly within every screen size, whether it be desktop, tablet or mobile devices. Avoidance of this practice will result in a poor user experience and eventual site abandonment.
Diversification
As a means to keep content fresh and enticing, it's important to craft a variety of content types that will tell your story as opposed to an over-saturation of text. In an age where digital content is ubiquitous and information is accessible with just a mere click, content should be as visually appealing and shareable as possible.
Below are a few examples of content variation that, if implemented, will keep your web pages, and thus brand, top-of-mind for qualified viewers.
Infographics
Infographics are a great method to providing useful and vibrant information that is packaged neatly and represented in a visually pleasing manner. For loads of content and data that could otherwise be lost in translation, infographics will organize and communicate a topic in one easily digestible visual that might include a variety of charts, graphs and/or maps.
Videos
Depending on your marketing strategy, leveraging video content can be a rewarding alternative that can build a greater sense of trust and credibility in the eyes of your viewers. For that instant gratification experience, videos can be developed to offer a behind-the-scenes look into the operation of a business, tutorials, case studies, demonstrations, testimonials, etc.
Whitepapers
This form of downloadable content serves an effective purpose when it comes to providing detailed pieces of information that help your prospects understand your core offerings that they actually might not find on a static page. A whitepaper can serve as a 'guide' that will uncover the scope of your business with an in-depth approach through proven data and analyses that will resonate with your readers as they make their purchasing decisions.
Keyword Integration
Developing the right collection of keywords is a crucial component to any marketing campaign. In fact, the fundamental task of keyword research is the building block of a marketing campaign and serves to inform many SEO tactics that will subsequently unfold.
Targeting the right keywords is essential to building your online presence and exposing your web pages to the right audience. The following types of keywords are those that are commonly used among marketers:
Branded – Semantic variations of a keyword that always include the brand name.
Geo-Targeted – Keywords that include a specific location denoted by a city, region, neighborhood etc. and are imperative to local rankings.
Market Defining – Phrases that are influenced by your target audience to reflect your business or industry and are usually broad in composition.
User-Centric – Specific keywords informed by the language and inquiries that your audiences uses.
Product/Service – Plain and simple these are the keywords that describe the product and/or services that you sell, brand name included, if applicable.
Following keyword research, you should assign 2-3 relevant key phrases to each page. These keywords should not only be included throughout the content, but should be employed within page Meta Data, as well. Consistency is key here.
Should a keyword represent too many pages, an act known as keyword cannibalization, Google won't understand which page is the most relevant on the basis of a users' search query and be forced to choose or may choose to remove your page from search rankings, altogether.
With regard to keyword density, there is no one-size-fits-all approach. Consider which keywords you'd like to include, incorporate them intermittently and within the first paragraph of a page and then ensure that the information reads naturally and is not too heavily influenced by keywords.
If the content appears heavy-handed on keyword integration, it could provide a negative user-experience as well as be viewed as spammy to Google, indicating that you might be trying to manipulate Google's ranking algorithm, which will prompt the search engine to adversely affect your site's rankings.
Incorporating links throughout your page content, whether it be to subcategory pages on your site (internal linking) or industry influencers on another domain (external linking), is a great way to give your readers additional insight on a correlating topic. Below we'll break down the benefits of these two tactics.
Internal Linking
Internal linking is yet another on-page content technique that serves to increase the navigational paths for users as well as spread page authority among sub-category web pages. While this element will help to improve the user experience, it also allows visitors to spend more time on your site as they find more valuable content that relates to their search query.
Internal links can be identified as hyperlinked elements, most preferably in the form of anchor text. While keyphrases can be used, it is also recommended to choose naturally occurring sentence fragments that align with the page that it's being linked to.
External Linking
Apart from interlinking to your own subcategory pages, it's also encouraged to link to webpages within an external domain. Why? Because links that point to authoritative and trustworthy sites are considered to promote ranking power for the webpage that you're linking. Consider it a popularity vote on your behalf.
So, as long as you have additional, trusted web resources that you're sure your readers would find useful and relevant, then go ahead and link. If you're unsure of the trustworthiness and authority of a website then you can always apply the 'nofollow' tag to your link, which gives marketers granular control by essentially telling search bots to not crawl a specific link.
While internal and external linking are both valuable tactics to employ throughout your site, it's important to note a few missteps that might occur along the way.
In the spirit of providing an exceptional user experience, you should ensure that no broken link gets left behind. If you're not vigilant about the validity of your links, Google may choose to remove you from search results if broken links are detected. You can easily discover these 404 errors using several tools including, Google Analytics, Google Search Console and Screaming Frog.
Furthermore, a webpage that is over-saturated with links throughout the content may signal to Google that you're trying to exploit the system. Similar to the integration of keywords, internal and external links should be intermittently placed within the content as long as it makes sense to have it there. Unfortunately, there are no hard and fast rules, here.
Moving Forward
Hopefully this post will transform your approach in the undertaking of building value-driven content that users and search engines will both appreciate. As you've now learned, there are numerous moving parts that contribute to the performance of on-page content.
If you think that your website doesn't meet these quality guidelines, I encourage you to take a close look at the content that fills (or doesn't fill) the pages of your website. Continue to familiarize yourself with these best practices and put them into action as soon as you have a strategy in place.