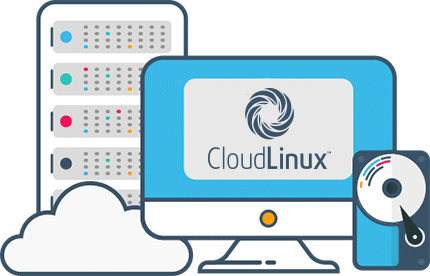 Popular operating system CloudLinux OS was developed especially for shared hosting settings and web hosting companies. It provides a wide range of advantages that improve server performance, security, and stability. These are CloudLinux OS's greatest ten advantages:
Increased server stability: CloudLinux OS isolates and distributes server resources to each user using Lightweight Virtual Environment (LVE) technology. As a result, no user can monopolise server resources, protecting other users' stability and performance from being adversely affected by one client.
Enhanced security: To protect servers from malware, viruses, and assaults, CloudLinux OS contains a number of security technologies, including SecureLinks and SecureLVE. It separates specific accounts, preventing the compromising of one account from influencing others.
Control over resource allocation: With CloudLinux OS, you may individually establish resource restrictions for each user or website. This ensures fair distribution of server resources across several users and improves control by preventing resource misuse.
Improved server performance: CloudLinux OS prevents abrupt spikes or resource-intensive tasks from degrading server performance by capping resource use per account. Website response times are accelerated and server stability is increased as a result.
PHP selector: The CloudLinux OS includes a built-in PHP selector that enables users to select the PHP version and module settings they desire. This makes it possible to be compatible with a variety of programmes and frameworks, giving developers freedom.
Detailed insights into resource utilisation, CPU, memory, and I/O statistics are provided by tools like LVE Manager and LVE Statistics, which are part of CloudLinux OS's advanced monitoring and analytics capabilities. Making educated judgements and identifying potential problems are made easier with the aid of this information.
Each user's virtualized file system is created by CloudLinux OS using the CageFS virtualized file system. As a result, privilege escalation attacks and unauthorised access to important information are prevented by isolating users from one another.
Enhancements to PHP security are included in CloudLinux OS, including sophisticated PHP settings and protected PHP modules. These precautions aid in defending websites from frequent PHP-based threats and vulnerabilities.
KernelCare live patching is a feature of the CloudLinux OS that enables automatic kernel updates without the need to restart the server. This minimises downtime and increases server availability by ensuring that servers remain secure and up to date with the most recent kernel updates.
Complete compatibility with popular hosting control panels like cPanel and Plesk makes it simple to integrate CloudLinux OS into already-existing hosting settings. It offers a dependable platform for web hosting companies as well as a recognisable user interface for managers and users.
Because of these advantages, CloudLinux OS is a great option for hosting companies that want to improve server performance, security, and stability while providing their clients with a favourable hosting experience.